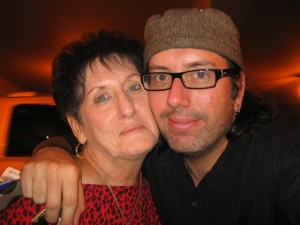 My mother and I had always been close. When I was a 16 we experienced multiple losses in our family. She and I were all each other had for much of our lives. That's why when she became severely ill, there was no question that I would drop everything to take care of her, despite the consequences.
My mother is an inspiration to me. Throughout her life she faced many difficulties, and did it with grace. Superman, James Bond, no one had anything on her. She was my hero!
She lived a wild life in her youth – her work as a hat-check girl at a bar in the Bronx in the '50s introduced her to mobsters and motorcycles. It was as if her life came straight out of the film Goodfellas. She married her high school sweetheart and had her first child, Louis. She and her first husband soon got a divorce. Ten years later she met and married my father, who had fought in Vietnam and was a police officer for over 20 years. After I was born we all moved to Florida to be close to her mother.
Two years later, when she was 38, my mom's health problems began when she was diagnosed with cervical cancer and had to have her ovaries removed.
Then, after many years of constant fighting and regular separations, my dad finally moved out for good. Less than a month later, my grandmother died after suffering a massive stroke, and five months after that my older brother Louis died from a drug overdose. Things seemed to fall apart, but that year of tragedy cemented the bond we had.
Not even a year later, I kept nagging my mom to get a mammogram. She would say to me, "How do you even know what that word means?" I don't know where I heard it but I was so nervous that I could lose her, too, that I just kept telling her to go get one. She didn't want to because of all the grief we were going through but to calm me down she went. And they found a lump. She had breast cancer and had got a mastectomy. She would tell everyone how I saved her life. Really, she did all the work; I just helped her along the way. Little did we know that these years were a precursor to what would happen decades later.
Life wasn't all gloom and doom. In 1991, I joined a band named, COLLAPSING LUNGS. As our popularity increased we opened shows for many touring national bands. Eventually, we signed a record deal with Atlantic Records, put out a CD, made a video and went on tour. Guess who was one of the main actors in the video for our song, CRACKERJACK? Yep, it was MY MOM!
Collapsing Lungs eventually disbanded, so I entered into the world of television and film. I spent a few years editing shows and other forms of media at a small production company in Boca Raton. In 1999, I directed, produced and edited the documentary, MARILYN MANSON – DEMYSTIFYING THE DEVIL. Upon completion, I went to Los Angeles to expand my career. I focused my attention on building my own life. Even though my mom was only 64 years old, still drove, and had lots of friends, I felt bad about leaving her alone. But, I would fly back a few times a year to visit and always for the holidays.
In 2001 a friend invited me to Ft. Lauderdale to see U2 open their tour. The concert was the same weekend as the anniversary of my brother's death. I called my mom to check in on her since this was always a difficult time of year for her. I told her to get out of bed and not allow depression to get the best of her. Later I called again, this time as I was secretly walking up to her house. She'd managed to not spend all day in bed, but was still feeling down. I asked her what would make her happy, and she said if I was there to give her a hug. I then knocked on the door, and when she opened, I was able to give her what she asked for. It is one of the most cherished memories I have. She had such joy in that moment!
The joyous moments are what stand out in my memories, and the holidays were usually a big part of that. My mom always had a Christmas Eve party at our house for as long as I can remember. Our house was packed with all of our friends. Everyone always had a great time. But then, on Christmas Day night 2006, my mom had a heart attack and a week later quadruple bypass surgery. This was followed by a few episodes of Congestive Heart Failure, which forced her onto a ventilator life support machine. She had every setback imaginable, which kept her in and out of the hospital and rehab centers for 3 months. Being a freelance editor at the time and having some money saved up, I decided to stay with her until she was able to travel. During her slow recovery from the heart surgery, we found out that her kidneys were failing. I knew I couldn't leave her alone again. If I did she would feel helpless and not fight for her life. I believe that 90% of the battle is your mind, and so I would show up every day with my laptop and funny movies for her to watch to help lift her spirits.
Once she was able to travel, I brought her to Los Angeles to recover. She lived with me and my then-fiance for 8 months until we found her a little apartment in North Hollywood. She had many panic attacks and also many urinary tract infections, all which put her in and out of hospitals and rehab centers. I knew her days were numbered, though neither of us had any idea whether she would make it one year or six years. All I knew for sure was that I wanted to be there for her as she was always there for me, and to help her enjoy every day she had left. In 2008 I filmed an interview with her asking her every question I ever wanted to know about her life so if she were to die before ever meeting her future grandchildren, they would know who their grandmother was and I would have that video to watch whenever I missed her. It was my first step in understanding the importance of LEGACY VIDEOS.
I was suddenly faced with the fact that it's inevitable – our parents will one day grow older and die. Neither of us were prepared for the stark realization that the last years of her life would be a gradual decline of health that would include trips to doctors and specialist, constant blood tests, procedures and surgeries, radical rises and falls of blood pressure, calling 911 and trips to the emergency room, life-support ventilator machines, failing kidneys and having to go on dialysis, infections and your body becoming septic, mini-strokes, being diagnosed with dementia and Alzheimer's disease, and eventually her body giving up.

The immensity of what my mom was going through was also a huge weight on my shoulders. All that my wife and I were coping with financially and emotionally added strain to an already tense relationship. We ended up separating in 2010 and getting divorced in 2012. My career was flailing because of the time and energy I was devoting to my mother. But, despite the struggles, one thing remained sure – the importance of family.
Through her final years I documented our experiences together, the good and the bad. I needed to have a legacy of her life to carry with me. This footage captured the daily struggles of how the adult child of an aging parent often bears the responsibility of the parent's care alone. It examines the power struggle that can occur when the roles are reversed and your parent relies solely on you for everything. Through capturing memories I also captured the emotional rollercoaster. But we were committed to supporting one another through all the twists and turns that life threw our way.
One of the happiest things I'll cherish is that in my mom got to experience the only thing in life that she still wanted to do, a mere six weeks before she died. In 2012 my girlfriend at the time gifted my mom a cruise to Hawaii. It was something she'd always wanted to do, and at this point she thought it would never happen. Watch the brief video, MAKING MY MOM'S LAST WISH COME TRUE, and see what joy this experience brought to my mom.
My mother remains an inspiration. She was a warrior who fought bravely. She taught me compassion and kindness and perseverance. She always said to treat others the way you would want to be treated and that whatever you give out you're going to get back double.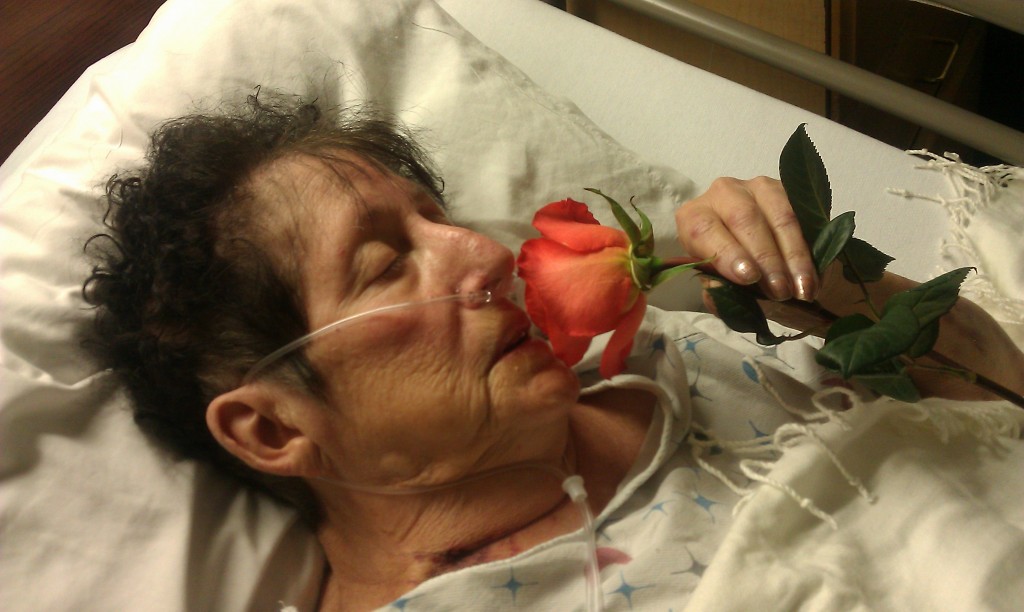 After her death I tried to make sense of it all. I immersed myself in reading, watching, and listening to everything I could to help process my grief. Professionally, the only jobs out there for a freelance editor was to work on a "reality show," which I knew would be as far from the reality of life as one could get, and most likely a project I would never watch and much less want to work on. I changed my perspective on how to be successful in my career. I realized, because of my experience with my mother, that I want to help other families that are currently going through a role reversal type of scenario or who will one day go through it. I hope this film inspires millions of people to have THE TALK with their loved ones before a crisis happens. Let there be no confusion when your aging parent's health and life is in question. Learn to take care of yourself and to honor your parent in their final years. Because life is short and they will eventually die someday.