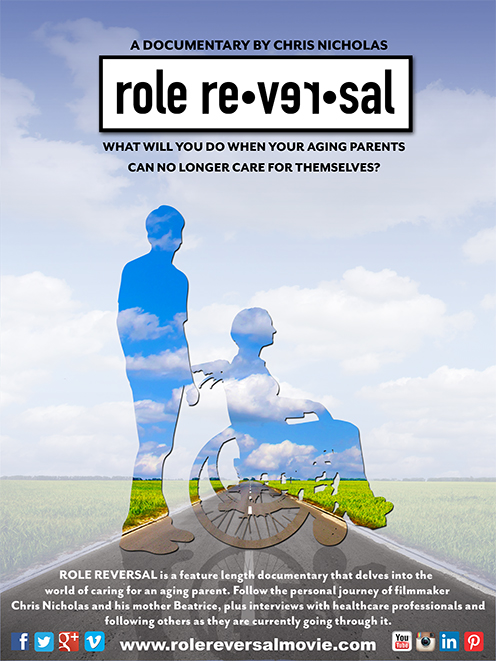 Role Reversal is a documentary about what happens when our aging parents are no longer able to care for themselves and how we, the adult children take on the role of caregiver.
As of 2012, according to the U.S. Census Bureau, there were over 76 million Baby Boomer's, making up over 24% of the US population. A huge number of their children are now in the situation of caring for their aging parent. If it hasn't happened to you yet, it will.
What can you expect to happen during this role reversal? What will you do when something happens to your parent? How will changes to their health affect your life – career, relationships, finances? Can you afford the money and time necessary for end-of-life care? Are you emotionally equipped to handle this transition? Do you know what resources are available? How might you move beyond grief and fear to make this an enriching and beautiful experience?
Millions of us are currently struggling with this role reversal, and millions more should prepare for it. Filmmaker Chris Nicholas uses his own experience of caring for his ailing mother as a means of helping us all prepare for the inevitable.
Role Reversal will delve into what Chris Nicholas did to make his mother's final years as comfortable, enriching, and beautiful as possible, through good times and bad. He will also interview health care professionals, and share the stories of others that are at various stages of taking care of their aging parents. The goal is to create a film that will inspire us to honor our parents, letting them live their final years with dignity and compassion. It will educate and inform, providing the tools necessary to navigate this rocky path and to learn how to take care of ourselves while also caring for our loved one.
Role Reversal is being produced by NEW RIVER ENTERTAINMENT.
* http://www.prb.org/Publications/Articles/2002/JustHowManyBabyBoomersAreThere.aspx